The carnation is a flower with strong symbols in the language of flowers
Carnation is a flowering plant generally divided into two large families. This implies that we can find carnations with jagged petals and others with rounded petals.
In addition, the flower of this plant comes in several colors. Each color thus expresses its nature, to be discovered below.
Each color has a different meaning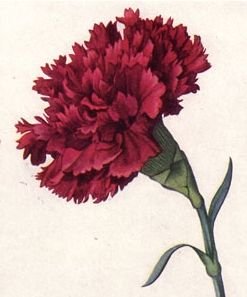 The red carnation was introduced into European traditions around the beginning of the 20th century as the symbol of the working day. People in Italy, France and Austria, worn in the buttonhole during the day of May 1st. Pale, it commands respect and admiration, while lively it symbolizes affection and deep love.
Still on the sentimental level, the white carnation represents pure love. According to some people, it even represents fidelity, purity because of its whiteness. Thus, the founder of Mother's Day in the United States, Anna Jarvis, chose this flower as the emblem of this holiday. In everyday life, giving it away means wishing the recipient luck.
The pink carnation, on the other hand, has a history of the Christian religion. According to legend, when Jesus was crucified on the cross, his mother, Mary, shed tears that became pink carnations once they hit the ground. In "Our Lady with the Carnation", a work by Leonardo da Vinci, we also see that Mary holds this flower out to her baby Jesus. It thus represents the eternal love of a mother.
The purple carnation embodies whimsy, while purple symbolizes a moody and moody mood. When giving a variegated one to somebody, it means reflecting on the other person's request.
Giving someone the yellow carnation means you despise them or want to leave them. As for the green carnation, it is traditionally offered on St Patrick's Day in Ireland.
This flower has multiple meanings in the language of flowers, especially depending on its color. Do not hesitate to use it to convey an appropriate message.