Spring is finally here, the flowers are enjoying it!
You may not have felt it given the always cool temperatures that accompany our days, but spring has finally arrived. And what better witnesses of this new season than the flowers that have taken up position everywhere around us.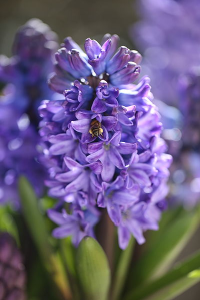 Daffodils had already been out for a few days and now it is almost impossible to miss them. Whether in a public garden, at a private home and even in the wild in the fields of our countryside or near the cities. The daffodil is the flower of love that cannot wait any longer, a bit like the spring we are waiting for and which was slow to come when we were in the depths of winter!
More recently, you have probably seen crocuses emerging from the ground, embellishing the ground with their multicolored flowers. And it is precisely with their colors that crocuses gain their meaning in the language of flowers. Whether that be joy, hope, doubt or even fear. It's up to you to choose the right color!
Hyacinths are also part of the celebration with the arrival of spring. Beautiful flowers with bells have appeared in recent days, there too with multiple colors to delight the eyes. And the delight of noses, because the hyacinth has this scent so bewitching and recognizable among a thousand. Again, it is the color of the flower that determined its meaning in the language of flowers. Thanks to hyacinths, you can express either joy, love, hope or happiness.
Flowers are once again in the spotlight with spring coming, so don't hesitate to offer some around you. But take care to check the language of the flowers to be sure that the flowers you plan to offer suit the meaning you want to convey.