Mother's Day 2022 will be a great opportunity to give flowers
In most of the world, Mother's Day 2022 is celebrated on May 8th. But there are exceptions : in the UK mothers are celebrated on March 27th, in France on May 29th.
Mark this important day in your calendars! Because it is a perfect date to give flowers to your beloved moms. But don't give flowers randomly, follow the language of flowers to guide your choice.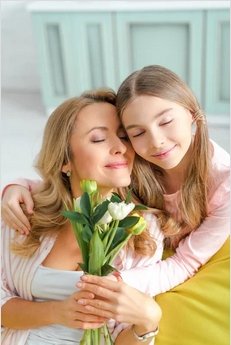 With that said, where to start? Obviously, the champions of Mother's Day 2022 are once again roses. With the undisputed star being the red rose.
But did you know that there are many alternatives to roses to give for Mother's Day 2022?
The tulip is a good option if you want to give something other than roses. Indeed, regardless of its color, the tulip has a meaning that relates to love.
Peonys also stand out in the list of ideal flowers for Mother's Day 2022. Indeed, it is a splendid flower that symbolizes feminine beauty.
Carnation can also be part of the flowers to give to her mother on Mother's Day. More particularly a red carnation in white. The first one symbolizes a deep love, the second one a pure love.
Giving a camellia will also make moms happy. A red camellia symbolizes total love. A pink camellia shows pride in loving the person to whom it is given.
An iris can also be the perfect Mother's Day flower. A white iris shows the love you feel. A yellow iris symbolizes the happiness you have in loving the person who receives the flower.
If you didn't have any gift ideas for Mother's Day 2022, now you have plenty to choose from! If that's not enough for you, you can discover the meaning of many other flowers by browsing our site.